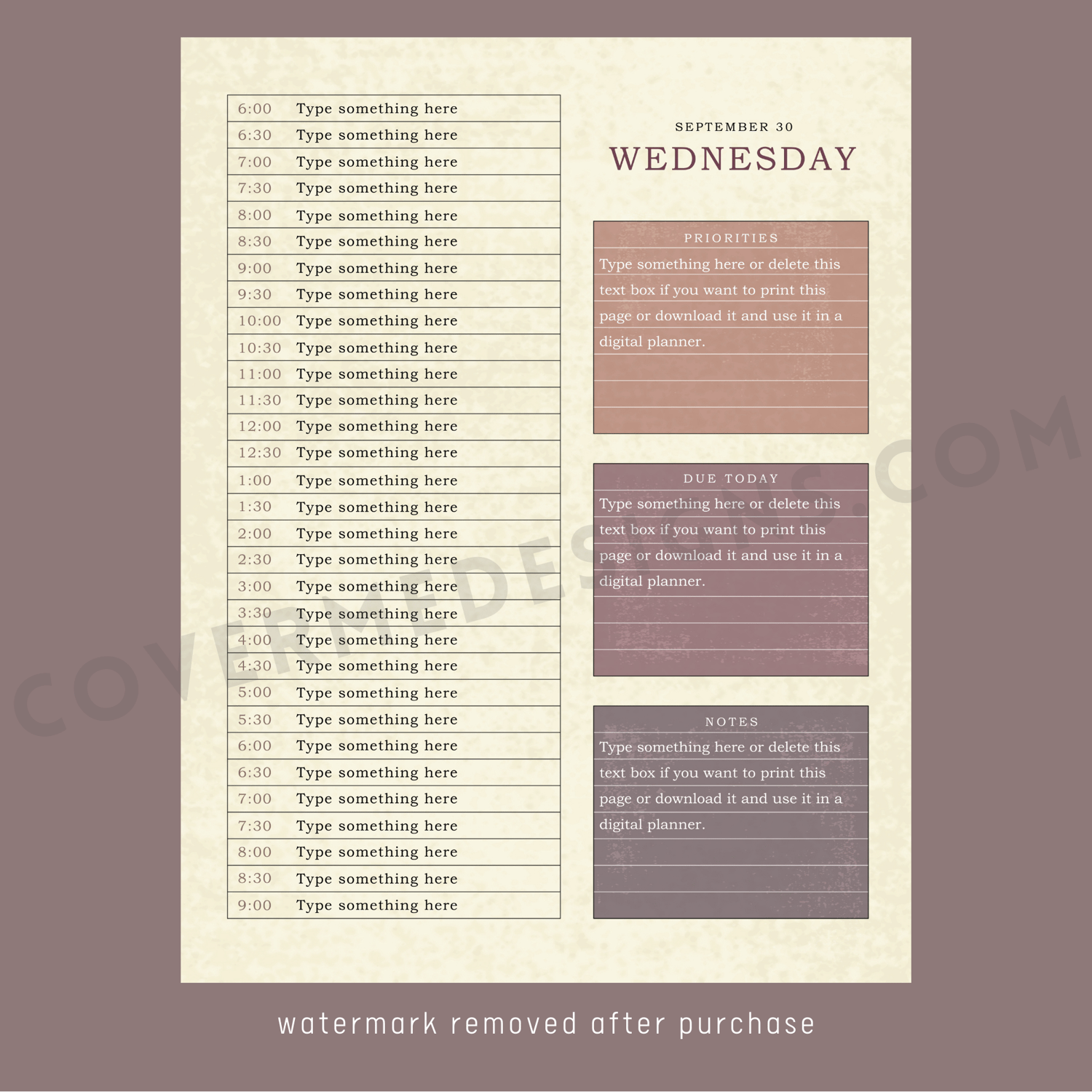 Vintage Hourly Planner - Customizable and Printable Canva Template - for use in physical or digital planners
Introducing our vintage-inspired hourly time keeper planner page template that you can easily edit with Canva! This beautiful planner page is perfect for those who love the classic charm and elegance of vintage design, but need something customizable that they can use in the modern day.

The hourly time keeper page allows you to schedule your day in hourly increments, ensuring that you stay on track and manage your time effectively. The beautiful vintage-inspired design will not only help you stay organized, but it will also add a touch of style to your planner.

With the ability to customize the template to your liking by changing the colors, fonts, or adding your own personal touches, you can make the planner page uniquely yours. This hourly time keeper page is ideal for anyone who wants to be more productive, manage their time better, and achieve their goals.

Use this planner page to schedule your work hours, appointments, meetings, and any other important tasks that need to be completed. You can easily print out the planner page and add it to your existing planner, or use it digitally.

Whether you're a busy professional, a student, or simply someone who wants to manage their time more effectively, this vintage-inspired hourly time keeper planner page template is the perfect tool to help you achieve your goals.

The Vintage Daily Planner page is printable and customizable. You can use this page in a physical planner like the Happy Planner or download it for use in a digital planner that accepts PDF, PNG, or JPG like GoodNotes or OneNote.

Sizes included:
▸ 8.5x11 inches
▸ 5.5x8.5 inches
▸ A4
▸ A5

Template info:
▸ Edit ANY text including dates – change fonts, text sizes, and text colors too!
▸ Space for hole punches
▸ Add your own images
▸ Edit online with Canva – no need to download new fonts or software
▸ Download as a PDF, JPG, or PNG file

This template is for personal use only.