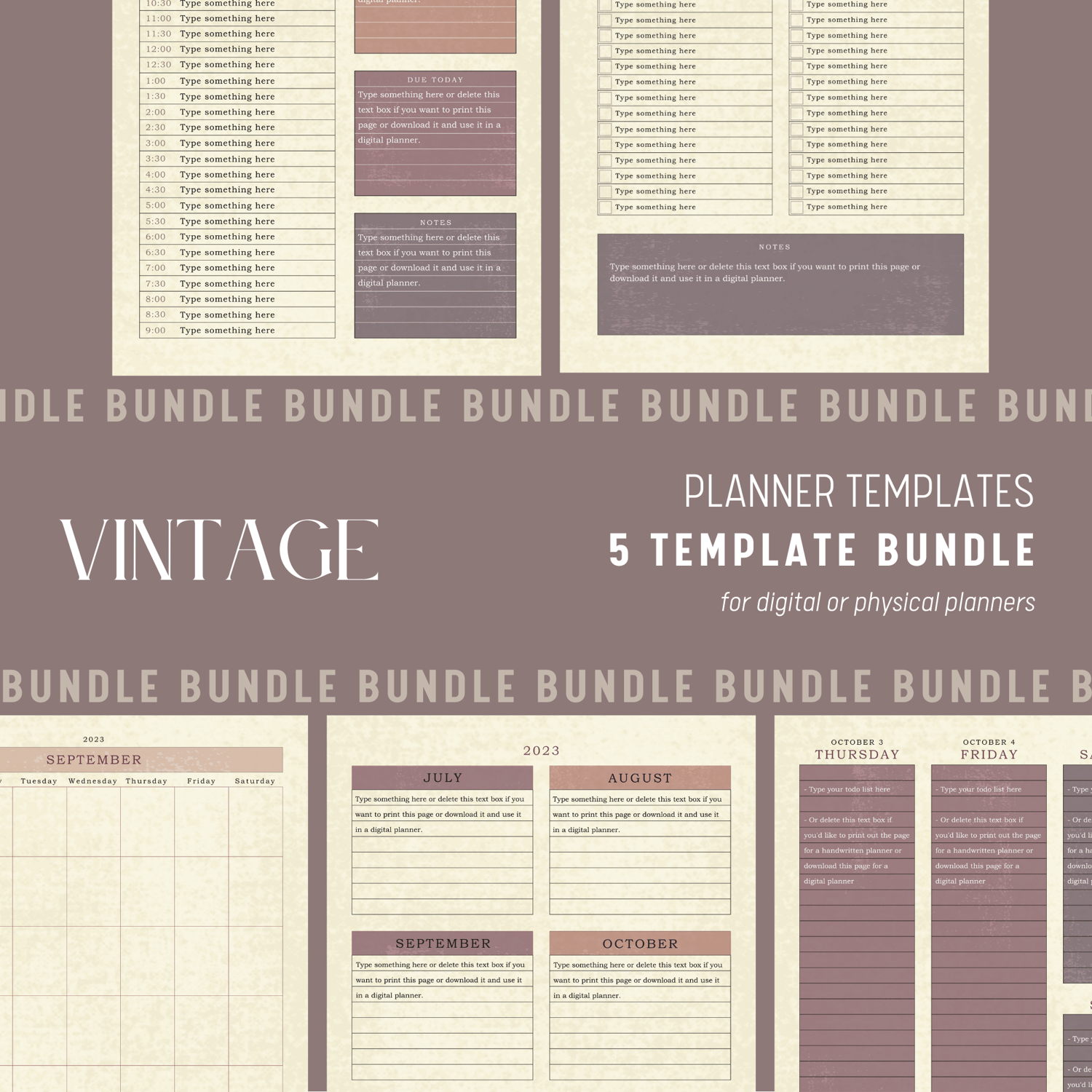 Vintage Planner Page Template BUNDLE
Customizable and Printable Canva Templates - for use in physical or digital planners - 4 sizes
Step into a world of timeless elegance and nostalgia with our Vintage Planner Page Templates Bundle
This captivating digital collection invites you to infuse your planning journey with a touch of old-world charm and sophistication.
Includes five essential templates:
- hourly
- daily
- weekly
- monthly
- yearly
Also includes four convenient sizes:
- Letter
- 5.5 x 8.5 inches
- A4
- A5
Immerse yourself in the beauty of vintage design as you navigate through your daily routines and aspirations. Each template captures the essence of a bygone era through colors and typography.
Our Vintage-Inspired Planner Page Templates offer a comprehensive range of timeframes, enabling you to plan with precision and clarity. Whether you need to meticulously organize your day, gain a holistic view of your week, or set long-term goals, these templates have got you covered. The hourly template allows you to capture every detail, while the daily, weekly, monthly, and yearly templates offer the flexibility to track your progress and plan ahead.
This bundle's templates are fully editable text using Canva, a free user-friendly online tool. You can effortlessly modify the text, change colors, add graphics or images, and unleash your creativity to make these templates truly your own.
Rediscover the magic of planning and infuse your days with vintage elegance. Elevate your organization game and indulge in the elegance of a bygone era with our Vintage-Inspired Planner Page Templates Bundle.
This bundle includes four paper size options per design: letter, 5.5 x 8.5 inches, A4, and A5.
Bundle Includes
Here are all the products that are included in your bundle